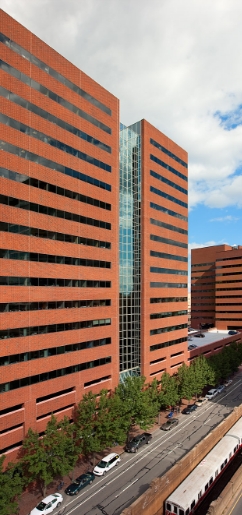 Services
Elevators
Passenger Elevators
Six passenger elevators in each building provide service to all Tenant floors. (Deliveries are NOT allowed in the passenger elevators, unless arrangements have been made through the Property Management Office). Two cars in each lobby are equipped with card readers for after-business hour use.
Freight Elevator
The freight elevator is operated by card access only. All deliveries must sign-in with Security, show proper photo ID, and obtain an access card for the floor of delivery. Tenant employee use of the freight must be authorized by the Tenant Contact, or other authorized Tenant representative, and access privileges will be programmed to the employee's Riverfront Office Park photo ID.
Garage Elevator
The garage elevator allows passenger access to all parking levels. It should not be used as a freight elevator and Security strictly enforces this policy. All deliveries should be handled through the loading dock area using the freight elevator.
Scheduling Use
The Property Management Office should be notified of any large moves or deliveries, and work should be completed before 8:00 A.M., or after 6:00 P.M., Monday through Friday, or any time during the weekends. The Property Management Office should be notified of any planned moves or deliveries in order to schedule the freight elevator, as well as to notify Security and other building tenants, if necessary. Advance notice is always suggested and can reduce the chance of delays.