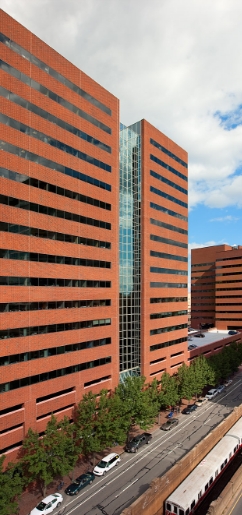 Policies
Building Rules & Regulations
The sidewalks, doorways, halls, stairways, vestibules and other similar areas shall not be obstructed or used for any purpose other than ingress to and egress from Tenants' respective leased premises and for going from one part of the Building to another part.
Plumbing fixtures shall be used only for their designated purpose and no substances of any kind shall be deposited therein which they are not designed to handle. Damage to any such fixture resulting from misuse by any Tenant or its employees or invitees shall be repaired at the expense of such Tenant.
Signs, advertisements, graphics, or notices visible in or from public corridors shall be subject to Landlord's written approval. Nails, screws, and other attachments to the Building require prior written consent from Landlord. Upon the removal of sign, notice or graphic from a building door or public corridor the Tenant is responsible for returning the surface to its original condition.
Landlord will provide and maintain an alphabetical directory board for all office tenants of the Building in accordance with each Tenant's lease on the first floor (main lobby) of the Building. The size, design and location are to be determined by Landlord. No other directory shall be allowed.
All contractors and technicians rendering any installation service to tenants shall be subject to Landlord's approval, submission of proof of insurance requirements, and supervision prior to performing services. This applies to all work performed in the Building, including, (but not limited to) installation of telephone and data wiring, related equipment and electrical devices, windows, ceilings, and any other physical portion of the Building.
Movement within, to, or from the Building of furniture, office equipment, or other bulky material that requires the use of elevators, stairways, or Building entrance and lobby shall be restricted to hours established by Landlord. All such movements shall be restricted to the Building's freight elevator. Prior arrangements with Landlord should be made regarding the time, method, and routing of movement, and tenants shall assume all risks of damages to articles moved and injury to persons or public resulting from such moves. Landlord shall not be liable for any acts or damages resulting from any such activity.
Any damage to the Building caused by furniture and equipment owned or used by a Tenant shall be repaired at such Tenant's expense.
Landlord shall have the power to reasonably prescribe the weight and position of safes and other heavy equipment or materials, which shall in all cases; to distribute weight, stand on supporting devices approved by Landlord. In addition, Tenants shall obtain written approval of Landlord prior to installation or subsequent relocation of any safes or heavy equipment. Tenants shall be responsible for all costs associated with said installation or relocation, including, but not limited engineering analysis and structural changes.
All routine deliveries to the premises shall be made between the hours of 6:00 A.M. and 6:00 P.M. weekdays (other than Massachusetts holidays) unless other arrangements are approved in advance by the Landlord, and only shall be made through the freight elevators. Passenger elevators are to be used only for the movement of persons, unless the Landlord approves an exception. Courier use of passenger elevators shall be limited to Business Hours during Business Days unless otherwise approved by Landlord. Delivery Hours are subject to change by Landlord. Tenants will adhere to any peak delivery restrictions implemented by the City of Cambridge. Delivery personnel/companies who do not adhere to building rules can be barred from the property by the Property Manager.
All corridors, stairwell and common area doors shall be kept closed, and not propped open.
Tenants shall cooperate with Landlord in maintaining their leased premises. Unless otherwise approved by Landlord office, Tenants shall not employ any person for the purpose of cleaning the leased premises other than the Building's cleaning and maintenance personnel.
Deliveries of water, soft drinks, newspapers, or other such items to any Tenant's leased premises shall be made only by suppliers approved by the Landlord and shall be restricted to hours established by Landlord. Delivery personnel shall use the freight elevators, if Landlord so directs.
Nothing shall be swept or thrown into the corridors, halls, elevator shafts, or stairways. No birds, fish or animals of any kind shall be brought into or kept in, on or about any Tenant's leased premises.
Restaurants excluded, no cooking shall be done in any Tenant's leased premises except in connection with convenience lunch room or beverages service for employees and guests (on a non-commercial basis). All permitted cooking shall be done in a manner which complies with all of the provisions of the Tenant's lease and which does not produce fumes or odors. All cooking facilities shall be subject to approval of Landlord and must be approved by all applicable state and municipal authorities.
Food, soft drink, or other vending machines shall not be placed within any Tenant's leased premises without Landlord's prior written consent.
No Tenant shall use or keep on its leased premises any kerosene, gasoline, or inflammable or combustible fluid or material other than limited quantities reasonable necessary for the operations and maintenance of office equipment. No Tenant shall use or keep any noxious gas or substances in it leased premises, or permit its leased premises to be used in a manner offensive or objectionable to Landlord or other occupants of the Building by reason of noise, odors or vibrations, or interfere in any way with other tenants or those having businesses therein.
Tenants shall comply with all requirements necessary for the security of their leased premises and the Building, including the use of service passes issued by Landlord for after hours movement of office equipment/packages and signing security register in Building lobby after hours.
Landlord will furnish each new Tenant with a reasonable number of initial keys for entrance doors into its leased premises, and may charge for additional keys thereafter. All such keys shall remain the property of Landlord. No additional locks will be allowed on any door of any leased premises without Landlord's prior written consent and Tenant shall not make any duplicate keys, except those provided by Landlord. Upon termination of this Lease, each Tenant shall surrender to Landlord all keys to its leased premises, and give to Landlord the combination of all locks for safes and vault doors, if any, in the leased premises.
Canvassing, peddling, soliciting, and distribution of handbills in the Building are prohibited and each Tenant will cooperate to prevent these activities.
Tenants shall not make or permit any improper noises in the Building or otherwise interfere in any way with other Tenants or persons having business with them.
Landlord will not be responsible for lost or stolen personal property, money or jewelry from any Tenant's leased premises or public areas, regardless of whether such loss occurs when such area is locked against entry or not.
Building emergency stairs shall only be used for emergency purposes, unless otherwise approved in writing by the Landlord.
Tenant will work with Landlord in informing and enforcing building rules with Tenant's delivery personnel, agents or invitees.
The building common areas including the garage and exterior are non-smoking areas. Tenants who permit smoking within their leased premises shall control the smoke and odor so it is not offensive or does not interfere with other Tenants in the building.
All Tenants will cooperate with Landlord and abide with local code in the testing and servicing of the Building life safety system.
Landlord reserves the right to modify or rescind any of these rules and regulations and to make future rules and regulations required for the safety, protection, and maintenance of the Building, the operations and preservation of good order thereof, and the protection and comfort of the Tenants and their employees and their visitors. Such rules and regulations, when made and written notice given to a Tenant shall be binding upon such Tenant as if originally herein prescribed.