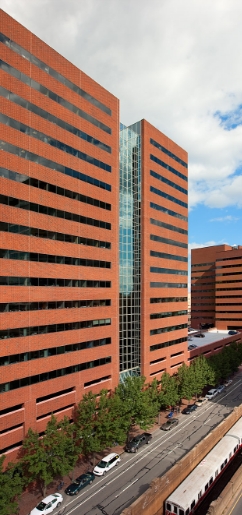 Policies
Moving Procedures
The tenant is responsible for all office equipment leaving the building, including computers and boxes; Landlord does not accept liability for items leaving the building. Guidelines listed below must be followed.
MOVING REQUIREMENTS AND PROCEDURES:
The Property Management Office must be notified, with 24 hours advance notice, of any and all movement of personal and/or Tenant-owned property into and out of the One and 101 Main Street, Cambridge properties.
All furniture, supplies, fixtures and other personal property shall be moved before 8:00 A.M. or after 6:00 P.M. Monday through Friday or between 8:00 A.M. to 5:00 P.M. on Saturday and Sunday, unless approved in writing by the Management Office.
The building Loading Dock and freight elevators are the only areas to be used for access to the Tenant floor during moves. In order to reserve these areas for Tenant moves, scheduling must be coordinated through the Property Management Office.
Tenant's moving company must be approved by the Property Manager. Ideally, prior to the move, a meeting should be held between the Tenant's moving company foreman and the management staff to review schedules and guidelines.
The freight elevator and common areas leading to and from the elevator shall be protected by pads or cardboard on the walls and by masonite on the floor. The masonite sheets shall be butted together and taped down so as to prevent trip hazards.
Movement of materials on top of the elevators will not be allowed.
All dollies and handcarts must be equipped with rubber wheels.
The mover's foreman or field superintendent must be on site at all times during the move.
A representative from the Tenant must be present at all times during the move.
At the completion of the move, all temporary protection shall be removed from the public areas and the public areas shall be cleaned of all debris.
Tenant's moving company is responsible for the breakdown and removal of all boxes upon completion of the move and shall remove all associated trash from common areas. Disposal of associated trash in the building's dumpster will not be permitted unless prior arrangement has been made with the Property Management Office.
Tenant may request post move cleaning from the Property Management Office. Such service shall be at Tenant's expense.
Any damage to the Building and/or property shall be the responsibility of the Tenant. Repairs shall be made by the Property Management Office and billed back to the Tenant.
Tenant's moving company shall purchase and maintain such insurance as will protect the moving company from claims set forth below which may arise out of or result from the moving company's operations under the contract, whether such operations be by the moving company or by any subcontractor or by anyone directly or indirectly employed by any of them, or by anyone for whose acts any of them may be liable.