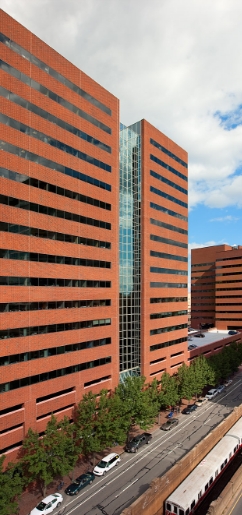 Services
Cleaning
Nightly cleaning service is provided Monday through Friday from 6:00 P.M. – 9:30 P.M., state holidays excluded, in agreement with the terms outlined in each Tenant's lease agreement.
Building Standard Office Cleaning Service
General Daily Service
Empty trash cans and recycling bins.
Dust horizontal Surfaces (desks, chairs, files, picture frames, etc…).
Damp wash and wipe dry all non-wood desktops, counter space.
Clean and sanitize drinking fountains.
Spot clean all windows and partition glass, lobby doors.
Dust mop and spot clean all tiled areas.
Vacuum all carpeted areas.
Daily Restroom Service
Remove all trash and clean receptacles.
Clean and sanitize lavatories.
Clean mirrors.
Spot clean wall tile and partitions.
Replenish supplies.
Sweep, mop and disinfect floors.
Weekly Office Service
Dust handrails and ledges.
Sweep stairwells.
Spot clean carpeted areas
Monthly Office Cleaning Service
Wash and buff (as needed) high traffic areas of tile floors.
Semi-Annual Office Cleaning Service
Clean interior and exterior building windows
Clean all fluorescent light fixture lenses.
Wash all restroom walls and partitions.
Additional Cleaning Requests
Additional cleaning, above the standard provided cleaning services, may be performed at an additional cost, and can be scheduled through the Property Management Office at 617-497-7711 and appropriate arrangements will be made.