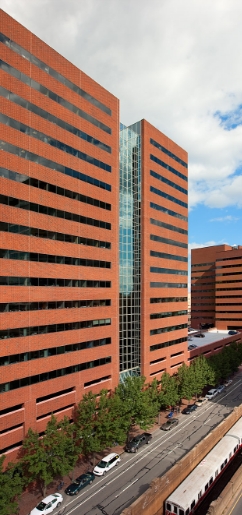 Amenities
Conference Center
The East Arcade Conference Center is located at One Main Street. Currently, the Conference Center is available, on a first come first serve basis, for meetings and other events at no charge for Tenants. This room accommodates up to 150 persons and is equipped with 50 chairs and 10 tables, which can be arranged for different meeting styles upon request.
In the Conference Center, a small kitchenette, equipped with a sink and a refrigerator, is available. Private restrooms are located inside of the Conference room. An electronic projector screen, built-in white board, high-speed wireless internet access and cable access are also available for your convenience. Note: Cleaning and any repairs due to damage attributed to the use of the space will be billed to the Tenant/group using the space.
Tenants should go through their tenant contact to schedule the Conference Center and to arrange additional services such as rental of AV equipment and additional furniture. Please allow one (1) week's notice.