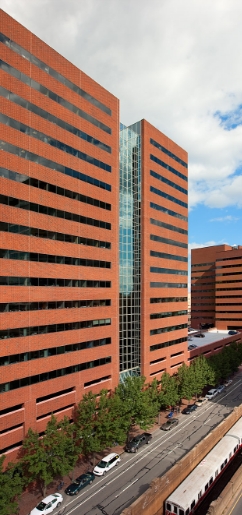 Services
Common Ancillary Services
Below is a list of common ancillary services for which the Property Management Office can provide a quote:
Carpet shampooing
Kitchen appliance cleaning
Interior "sidelight glass" cleaning
Furniture polishing
Upholstery & fabric cleaning
Tile/marble/wood floor maintenance
Computer room cleaning
Supply of specialty mats
Service personnel
Furniture moving
Ancillary services performed by building engineering staff are invoiced at $75.00 per hour. The following is a sample listing of ancillary services routinely performed by the property's on site staff:
Drain unclogging
Sink repairs
Preventative maintenance on Tenant HVAC equipment

Hanging pictures, whiteboards
Shelving installation
Drywall repair
Light painting
If a licensed plumber or service technician is required, the building staff is able to help coordinate a service visit, upon request. Following is a list of examples:
Architectural Services (including space planning)
Plumbing Services
Office space renovations
Routine carpet maintenance programs
Lighting
Lights, ballasts and fixtures will be changed in Tenant areas upon request. The responsibility of the charge for these services is specified in each Tenant's Lease agreement. Please contact the Property Management Office at 617-497-7711 for your Tenant Lease specifications.